SÅ ER VI KLAR
Til DM finalen på Ring Djursland den 17 og 18 september.
Det bliver stort og Den Grønne og jeg ligger nr 2 i DM Stillingen – men intet er afgjort før de to heat er kørt.
Der er trænet seriøst – kørte sidste afdeling af Nordisk mesterskab på Gelleråsen i Sverige første weekend i måneden.
Fredag med træning og tidtagning – perfekt bane og perfekt vejr – jo det var første gang jeg var deroppe.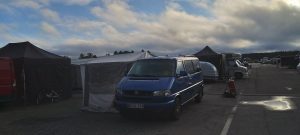 Lørdag regnvejr og olie på hele banen – dårlig blanding og al kørsel annulleret. helt ok – vi hyggede i teltene.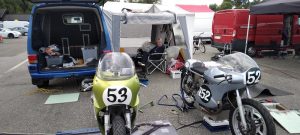 Søndag og solskin – banen i topform igen og vi kører to heat. ja to heat på hver cykel, så det var en travl dag.
Det lille team ender på en uventet 4 plads i Nordisk Mesterskab i klasse 7B på den lille Guzzi. Det er bare dejli !!
Nok for nu – planlægning og forberedelse til det årlige Nordiske møde hvor vi aftaler eventuelle ændringer i det Nordiske Classic reglement.
Ciao Søren