Så er den racer sæson overstået.
Kort og heftig – sæsonen altså. Ikke den store succes for TeamHolmRacing,  vi slutter på en 5 plads i Danmarksmesterskab. Store problemer med at få cyklen til at gå rent hen over sæsonen, har ganske enkelt ikke haft tid og overskud til at få tingene til at lykkes, men i det sidste løb på Jyllandsringen viste vi gode takter og lavede to trediepladser i klassen. Så det lover godt for den nye sæson 2017.
Ambitionen er at spare cirka 20 kg mere på den Grønne hen over vinteren. Regner med at vise lidt billeder og tekst her på siden. Vi er nede på 186 kg med olie uden benzin, så der er noget at arbejde med. Og så skal motoren blot gå lige så godt som på Jyllandsringen, så begynder det at ligne noget som duer.
værkstedet er klart, drejebænken installeret og værkstedsbænken trillet ind på plads. Mangler lige musikken og så at få det sidste værktøj ind på hylderne, så kan vinteren bare komme.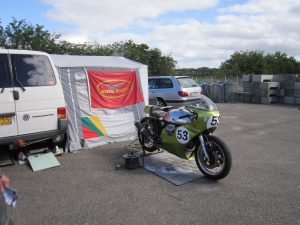 TeamHolmRacing på Jyllandsringen. Med to engagerede mekanikere. Uffe Andersen og Kjeld Vad var uundværlige hen over en hektisk weekend og Lisa var med hjemmefra. Så kan man ikke ønske bedre selskab.
Er inviteret af DMU til at deltage i Nordisk Møde NMC her i weekenden. Det foregår i Finland i år og jeg har købt fly billet. Det kræver en hel del forberedelse at skulle repræsentere Dansk Classic Road Racing i Nordisk regi, men vi har holdt et fint møde med klasse repræsentanterne så jeg er nogenlunde godt "klædt på" til opgaven.
Her kommer lige lidt billeder fra det nye værksted.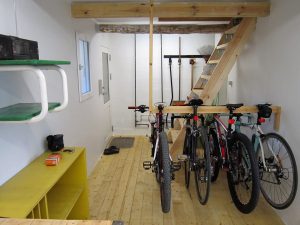 Cykelparkering er inclusive.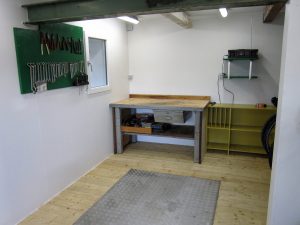 Værkstedsbænk på plads og hylden er klar til plade spilleren.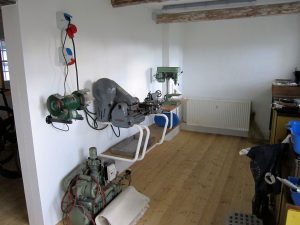 Maskinparken er klar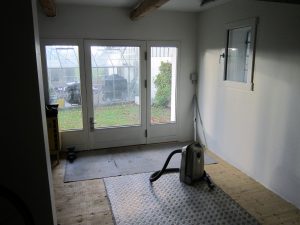 Lys udefra og udsigt til drivhuset – det er bare dejligt !
Ciao Søren.