Så blev det da ellers lige forår – med alt hvad det indebærer – Lillebælt halvmarathon ikke mindst 🙂
En vigtig del af konditions træningen, og i år med den ekstra bonus at mine to døtre deltog for første gang. Der var over 8000 deltagere og ca 500 som måtte give op i varmen, men begge "mine piger" kom fint igennem. Selv havde jeg udfordringer i varmen men kom godt nok igennem strabadserne. Det er noget ganske særligt at deltage i så stort et løb.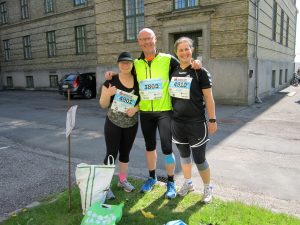 Før-billede, mens vi stadig kunne smile.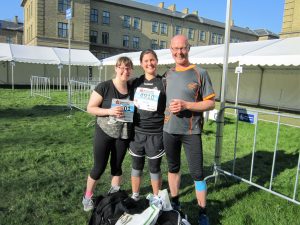 Og så et efter-billede – 21 kilometer senere. Jo vi smiler stadig.
Værkstedet er på vej men langt fra færdigt. Der er beklædning på vægge og loft, nu skal der males og til slut gulv og port, så kan jeg lige nå at skifte olie på de to Guzzier før vi skal ud og køre noget godt race.
Ciao Søren.