Og så er vi klar til classic race Aarhus
her i bededags ferien.
vi kører både fredag lørdag og søndag
se tidsplanen på Aarhus Classic Race siden.
Ciao Søren
Det var da succes. jeg scorer to andenpladser i klasse 6 og Uffe, han tager da to førstepladser i klasse 7B.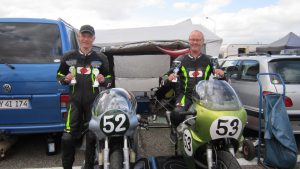 Og det var altså begge dage det samme resultat. Uffe kom og stillede til start gennemførte de to løb og fik sin licens og sine pokaler. Han var så eneste deltager i klassen, men de andre kunne jo bare stille op hvis de vil have noget pokal.
Anderledes hårdt gik det for sig i klasse 6, Vi kæmpede for det og kom for første gang under 1.30 på Jyllandsringen, det gik bare hurtigt begge dage. Teddy satsede hele butikken og væltede om søndagen, god bedring med armen Teddy.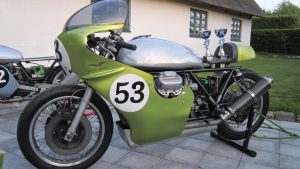 Den Grønne var lynhurtig og kunne faktisk følge de hurtige Yamahaer på langsiden. Nortonerne kniber det mere med at følge, så vi må "nøjes" med de to 2-plads pokaler.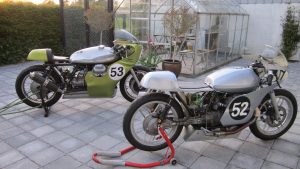 To fede racer Guzzier. Jeg laver videoerne fra de to løb klar og lægger ud på TeamHolmRacing facebook siden.
Ciao Søren.
Så er vi klar til Jyllandsringen og første afdeling af DM
Uffe er tilmeldt i klasse 7B med den lille nye Guzzi og jeg tager klasse 6 med Den Grønne
Det bliver stort.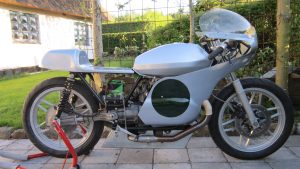 Den blev da helt god den !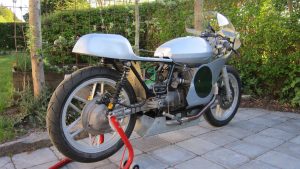 Og den lyder godt
Vi ses på Jyllandsringen
Ciao Søren.